Hi Glam & Sassy girls! Don't you love it when you find something that's  perfect for you?  A motivating and effective workout, an exciting and rewarding career, a loving and supportive guy, all need to click with me.   Anyone else feel that way?    I mentioned in my previous blog that I am relocating to LA and have been on the hunt for THE perfect apartment.   I haven't found it yet, but I  am confident I will know it the second I walk in that it is meant to be!  This is no easy task, especially with my list of non-negotiables.  It must be within walking distance to shops and restaurants. It must have parking . It must allow dogs. Check, check and, wait a minute, what do you mean "no pets"???  While dealing with this pain staking process, you can imagine how relieved I was to find THE perfect finishing piece for my fall wardrobe.  So easy. So, dare I say, perfect.  Denim and leather jackets, your days are numbered.  Prepared to be replaced by a new staple. The kimono.
Warms You Up:
As hard as it is to believe, it is October, ladies.  Is it starting to get chilly where you live?  Here in Southern CA, it still feels like summer.  Offices, shops, and movie theaters are all blasting the AC and are absolutely freezing, so I  need something warm over my shoulders.  This season's very on trend kimono gets the job done.  Lightweight, it is ideal for layering and works with everything from denim to dresses. Choose one in a heavier fabric like velvet or cozy boucle to turn up the heat factor.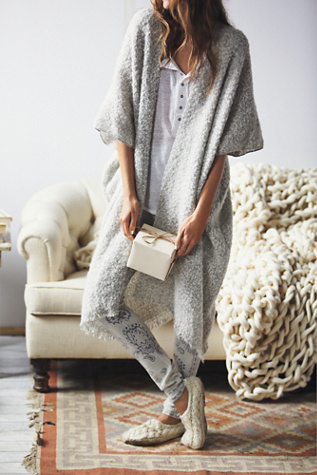 Looks Good on You:
Where the basic jacket or hoodie fails, the kimono excels.  There are so many cute styles, prints, even fringe, which is my fave, that we no longer have to dress for either comfort or fashion.  We can have both! I love having it all, don't you?!?
Adds to Your Fabulousness:
Glam & Sassy ladies, I know you are already fabulous. We have our style and we own it with confidence.  We do not want to waste our time,  money, and valuable closet space on clothing that doesn't enhance it.  That is why I am so excited about incorporating the kimono into my wardrobe. These fantastic tops have the ability to change up the look of many outfits with little effort.  Have fun experimenting with the different silhouettes and fabrics and feel a little more Glam & Sassy when you walk a room.  Which one will you be rocking this fall?  I'd love your feedback!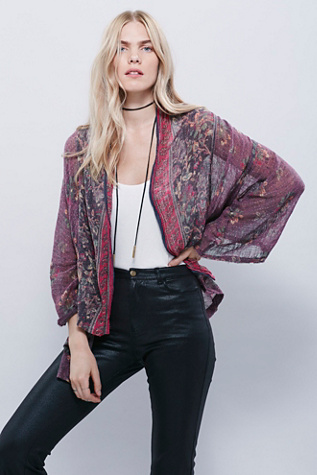 Click it and Get it Guide
Free People Border Print Kimono