Working in fashion for many years, I can confidently say that most women are enamored with the rich colors and cozy fabrics of autumn. I had to get out of my current residence in Southern California and go to New York City , to remember , in the rest of the country, women are no longer running around in tank tops and open toe heels (as I was the day before my flight).  It was a refreshing change in mid- October to think about wearing sweaters, booties, and gasp, a coat! If you are interested in my go-to looks from now until March (of course you are!), keep reading to check out the pieces I am currently in love with.
Monogamy in the City:
In a place where the unofficial uniform is head to toe black, my first day in New York was a stylish monochromatic look starting with the perfect black pant, button down and this season's on trend pointed pump.  Another day I wore black printed denim with a black top , open black cardigan and black booties.  I do not ever believe that ANYTHING is the " new" black. Not gray, not army green, and certainly not orange haha. Black is always my one and only  to which I will always be true.
Falling for You:
This is the time of year we get to enjoy all of the gorgeous colors on the trees, especially on the east coast. The Pantone Fashion Color Report mimics this rich blend of golds and reds.  It is epitome of the season and I love to style my clients in different shades and hues of their favorite earthy tone. Digging neutrals?  Pair a cozy cashmere sweater in Honey with a dark brown pant. So yummy! In the mood for merlot? Wear a darling navy pleated skirt with a burgundy side tie blouse .  Don't forget a skinny belt or printed tights to pull it all together.  This fabulous look is one that you, and everyone else, will fall for!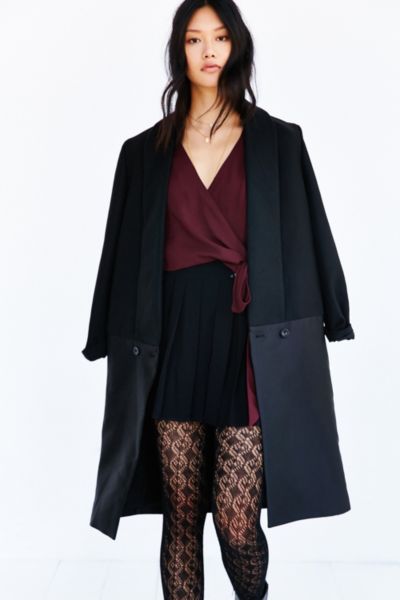 All Tied Up:
Scarves are on trend which is perfect since we need them to keep the chill out and the warmth in. Already have your "it goes with absolutely everything "neck adornment but not sure how to tie it? Check out this helpful how to video and you will know more knots than there are days till spring…and you'll look Glam & Sassy each and every one!
Click it and Get It Guide:
Urban Outfitters Side Tie Blouse